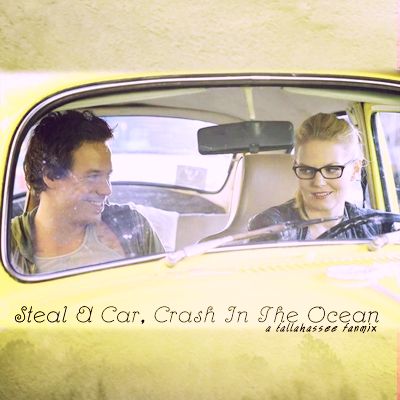 Title:
Steal A Car, Crash In The Ocean: a tallahassee fanmix
Fandom:
Once Upon A Time
Character(s)/Relationship(s):
Emma/Neal
Length:
15 Tracks
Notes:
Done for
onceuponaland
's, Episode Mix Challange
Longest Night by Howie Day
So here we are, set into motion
Steal a car, crash in the ocean
Time Bomb by All Time Low
Oh, on a wire, we were dancing
Two kids no consequences
Pull the trigger, without thinking
There's only one way down this road
She's Got You High by Mumm-Ra
She's got you high and you don't even know yet
The sun's in the sky it makes for happy endings
You can't deny you want the happy ending
Endlessly by The Cab
Yeah, I'm no angel, I'm just me but I will love you endlessly
Wings aren't what you need, you need me
Mason by Crystal Bowersox

I wanna be your mason baby,
I wanna build a life with you
Anti-Hero (Brave New World) by t.m.o
Ain't no good to you
I'm your anti hero
The chances that I've blown
The love I could have known
Can't do this to you
Maps by Justin Dube and Maggie Eckford

Wait, they don't love you like I love you
Ma-a-a-a-ps, wait!
They don't love you like I love you...

Made off
Don't stray
My kind's your kind
I'll stay the same
More Than Life by Whitley
And we are homeward bound
And I, I want this more than life
Holding On And Letting Go by Ross Copperman
It's everything you wanted, it's everything you don't
It's one door swinging open and one door swinging closed
Some prayers find an answer
Some prayers never know
We're holding on and letting go
Fire Escape by Matthew Mayfield
I'm on a fire escape
Where you said to wait
And I did, yes I did
Oh, I heard the cold winds say:
"You're a fool to stay"
But I did, yes I did
Exile Vilify by The National
Exile
It takes your mind again
You've got suckers' luck
Have you given up?

Does it feel like a trial?
Does it trouble your mind the way you trouble mine?
Wherever You Will Go by Boyce Avenue
If I could, then I would
I'll go wherever you will go
Way up high or down low
I'll go wherever you will go

Run away with my heart
Run away with my hope
Run away with my love
Impossible by Shontelle
Falling out of love is hard
Falling for betrayal is worse
Broken trust and broken hearts
I know, I know
Princess of China (Acoustic) by Coldplay ft Rihanna

I could've been a princess, you'd be a king
Could've had a castle, and worn a ring
But no, you let me go
Red by Landon Austin and Nikki Phillippi
Losing you was blue like I'd never known
Missing him you dark grey all alone
Forgetting you was like trying to know somebody you never met
But loving you was red