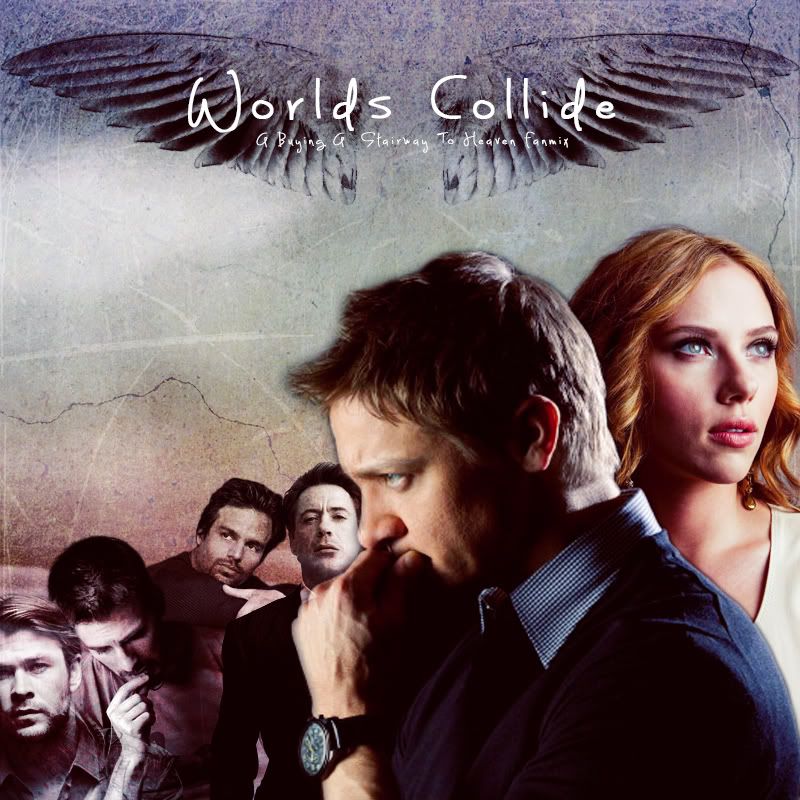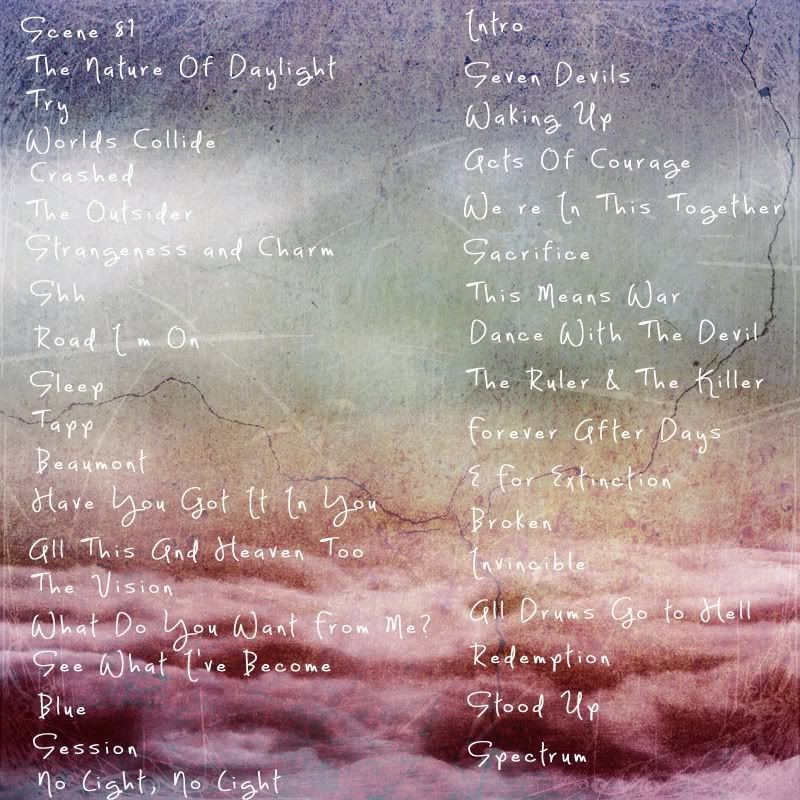 Title:
World's Collide
Fandom:
The Avengers
Character(s)/Relationship(s):
Same as fic.
Length:
37 Tracks
Notes:
Made for
zihna
's fic 'Buying A Stairway To Heaven' which was done for
au_bigbang
. This fic is one of the most wonderful, vivid, stunning and simply amazing fics I've ever read. Honestly do yourself a favour and go and read it, you will NOT regret it.


Scene 81 (Instrumental)

The Nature Of Daylight (Instrumental) by Max Richter

Try by Deine Lakaien
Fly, if I could fly, if I could fly

Worlds Collide (Instrumental) by Apocalyptica

Crashed by Daughtry
And then I crashed into you and I went up in flames

The Outsider (A Perfect Circle Instrumental Cover)

Strangeness and Charm by Florence and The Machine
The static of your arms, it is the catalyst
You're a chemical that burns there is nothing like this

Shh by Frou Frou
Don't make a sound and be good for me
'Cause I know they're waiting somewhere out here

Road I'm On by 3 Doors Down
What you thought was real in life somehow steered you wrong
Now you just keep drivin' tryin' to find out where you belong

Sleep by by Imogen Heap
How can it feel so nice?
Why does it feel so right?

Tapp (Instrumental) by 3OH!3

Beaumont (Instrumental) by 3OH!3

Have You Got It In You by Imogen Heap
Have you got it in you?

All This And Heaven Too by Florance and the Machine
So I was screaming out a language that I never knew existed before

The Vision (Instrumental) by X-Ray Dog

What Do You Want From Me? by Pink Floyd
I'm not the one you need
What do you want from me

See What I've Become (Instrumental) by Zack Hemsey

Blue by A Perfect Circle
I just didn't want to know

Session (Instrumental) by Linkin Park

No Light, No Light by Florance and The Machine
You want a revelation,
You wanna get it right

Intro (Instrumental) by The XX

Seven Devils by Florence and The Machine
Holy water cannot help you now
See I've come to burn your kingdom down

Waking Up by One Republic
We're waking up
And right on time

Acts Of Courage(Instrumental) by X-Ray Dog

We're In This Together by Nine Inch Nails
You and me we're in this together now

Sacrifice (Instrumental) by X-Ray Dog

This Means War by Nickleback
Well this means war

Dance With The Devil by Breaking Benjamin
Say goodbye, as we dance with the devil tonight.
Don't you dare look at him in the eye, as we dance with the devil tonight

The Ruler & The Killer by Kid Cudi
When I talk you should listen
All of you belong to me

Forever After Days by The National
Pull myself into the sky, wrap me in the banner I made

E For Extinction by Thousand Foot Krutch
I won't surrender quietly
Step up and watch me go

Broken by Firewind
It's breaking my heart when you can't see what's wrong or right

Invincible by OKGO
When they finally come to destroy the earth
They'll have to deal with you first

All Drums Go to Hell (Instrumental) by Two Steps From Hell

Redemption (Instrumental) by Zack Hemsey

Stood Up by A Fine Frenzy
We are not frightened anymore,
We stood up, we stood up

Spectrum by Florence and The Machine
And when we first came here we were cold and we were clear
With no colors in our skin 'til we let the spectrum in

{DOWNLOAD}
I had to split it into two parts as it was to big

PART ONE
PART TWO